The Future of SAP BW/4HANA
The SAP BW/4HANA Model Transfer to SAP Data Warehouse Cloud (DWC) has been around since its beta release in November 2020. It lets you access data in your BW/4HANA tenant database using BW/4 queries as model descriptions. The underlying tables are usually created as part of the aDSO and InfoObject data models.
Once you have the Data Provisioning Agent (DPA) set up between BW/4 and DWC, you can use the SAP Cloud Connector to import your queries as Analytical Data Sets in DWC and then use the Data and Business Builders to build on top of those Data Sets.
Before importing your queries, however, you need to release them in BW/4. Run transaction RSDWC_QUERY to enable the DWC import. But keep in mind the current limitations listed in SAP note 2932647: Since Analytical Data Sets are remote views on HANA tables, any query element that is based on ABAP code cannot be imported. By 2022 the mapping of query variables to HANA, time-dependent dimensions, compound-based characteristics, currency conversion, specific exception aggregation methods, and hierarchy management will be supported. Authorizations can be replicated from BW/4 or BW 7.5, enhanced by Space-related data access control. 
Fabian Hartje, head of SAP's product management for data warehousing, reported on November 16, 2021, that "SAP BW/4HANA remains unchanged and will continue as-is. No change to the end of maintenance. BW/4HANA remains a valid option for customers that want to continue their enterprise data warehousing as-is either on-premise or as a Private Cloud Edition offering. However, for customers that are keen to take advantage of SAP Data Warehouse as the public cloud offering, they can utilize the BW bridge (..) to transition to SAP Data Warehouse Cloud. SAP Data Warehouse Cloud is the strategic public cloud offering of the SAP's Data Warehousing portfolio."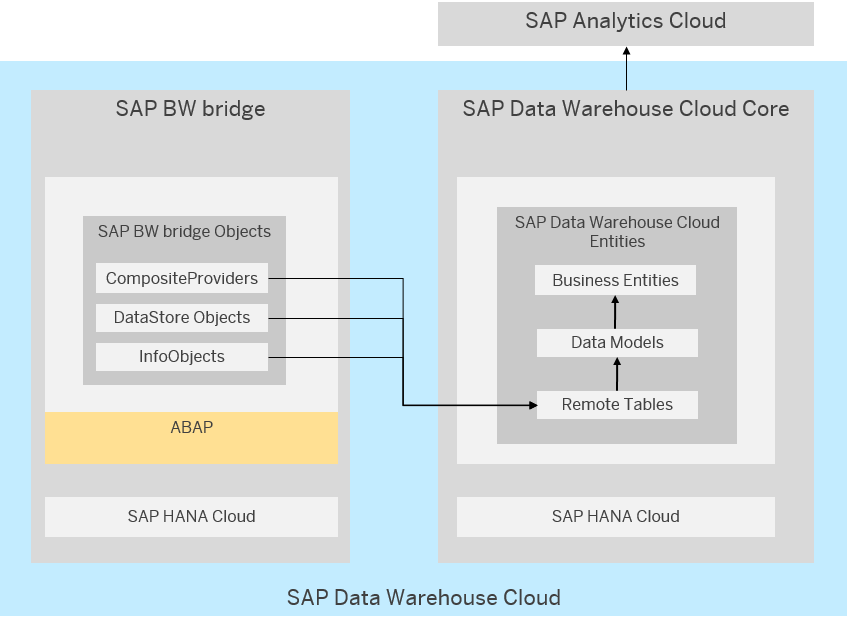 In a nutshell, the BW Bridge is a hosted SAP BW/4HANA system (see https://bit.ly/2Zktlhr). Once your BW/4 runs on the HANA Cloud, ODP data flows can be converted one-by-one into DWC's data flows that are already known from SAP Data Intelligence Cloud (DIC). Alternatively, data replication via Smart Data Integration (SDI) and Smart Data Access (SDA) is supported. In addition, the BW/4HANA Model Transfer tools will be enhanced significantly in 2022, such that BW/4 metadata can be moved in a lift-and-shift approach into a refactored data model in DWC.
In summary, SAP BW/4HANA's future is therefore DWC.